Flippa, an online marketplace catering to digital entrepreneurs, has quickly grown into a buzzing platform for buying and selling websites, domains, and apps. If you've contemplated how to sell on Flippa and maximize your profit, this comprehensive guide will walk you through everything you need to know. From understanding the selling process to setting the right price, this guide will help you navigate the marketplace confidently.
So what is Flippa?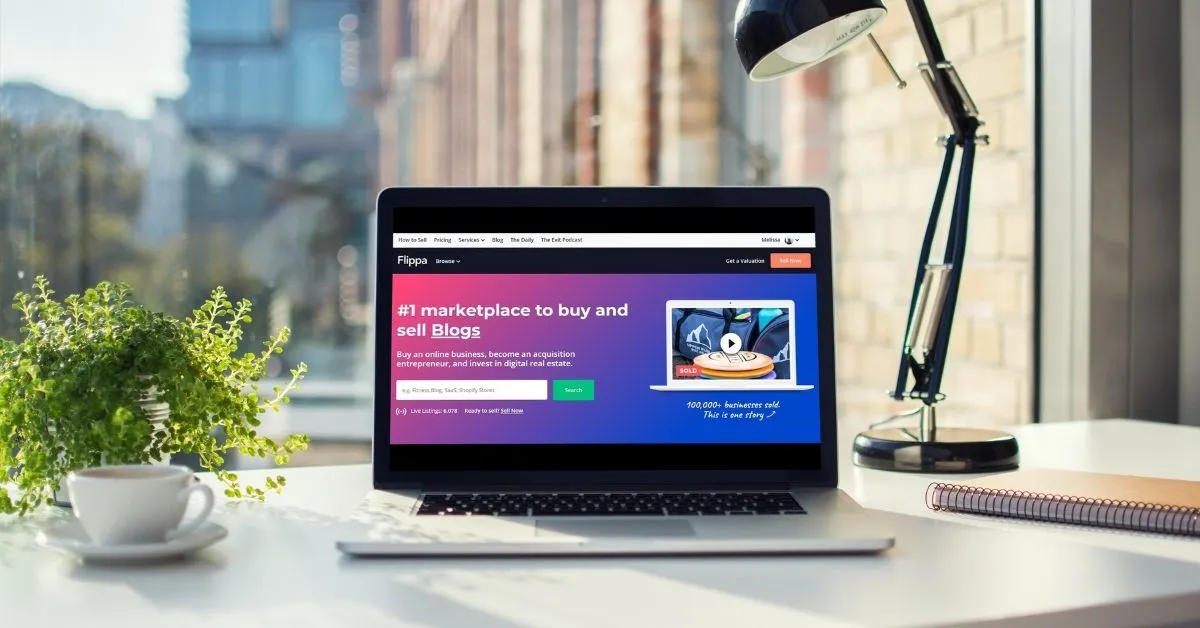 Flippa is a bustling marketplace where online assets such as blogs, e-commerce sites, domains, and apps change hands. The platform acts as a bridge, linking sellers and buyers, thereby simplifying the trading of digital properties. The question, "Is Flippa worth it," can be answered by looking at the sheer volume of transactions and the diversity of digital assets available on the platform.
What Can You Sell on Flippa?
When it comes to selling on Flippa, you have a handful of options:
Websites: These could be service-based sites, Content Management System (CMS) based blogs, e-commerce stores, Software as a Service (SaaS) businesses, or any other type of website.
Apps: Mobile applications for both iOS and Android platforms can be sold.
Domains: If you own domain names that could be potentially valuable to others, you can list them for sale too.
Preparing to Sell on Flippa
Before you jump into the selling process, there are a few things you need to sort out.
Understand Your Business
Understanding the ins and outs of your business is crucial. This includes knowing your website's niche, its revenue streams, traffic sources, and future growth potential. Having a deep understanding of your business will help you present it accurately to potential buyers.
Evaluate Your Website
Before listing your website for sale, it's essential to understand its worth. The value of a website is generally determined by its monthly revenue, traffic, and growth potential. However, other factors like the website's content quality, domain authority, backlink profile, and social media presence also play a significant role.
Redesign if Necessary
Most buyers prefer websites that look modern and are user-friendly. If your website's design is outdated, consider giving it a facelift before listing it for sale. Remember, first impressions matter.
Gather All Relevant Data
Prospective buyers will want to see proof of your website's performance. This includes Google Analytics reports for traffic, income reports for revenue, and any other data that can prove your website's worth. Make sure to have all these data ready and verifiable.
Listing Your Website for Sale on Flippa
Once you've prepared your site, it's time to create your listing on Flippa. Here's how you do it:
Create a Flippa account if you don't have one already.
Click on "Sell Now."
Enter the URL of the site you want to sell.
Choose the type of online business you're selling.
Provide all the necessary information about your business, including its monetization methods and financial details.
Connect your listing with Google Analytics and other relevant integrations like Shopify, WooCommerce, or Stripe. This will give potential buyers a clear view of your stats.
Add more information to your listing, such as images, videos, screenshots, and details about your project.
Choose a selling method. You can either create an auction or set an asking price.
After following these steps, your website will be listed for sale on Flippa.
Pricing Your Website
One of the most crucial aspects of selling on Flippa is setting the right price for your website. Here are a few things to consider:
Reserve Price: This is the minimum price that you're willing to accept for your website. Setting a lower reserve price can create a sense of urgency among bidders and encourage more bidding activity.
Minimum Bid: This is the minimum amount that a buyer can bid for your website. Setting a higher minimum bid can help filter out non-serious buyers.
Buy It Now (BIN) Price: This is the price at which a buyer can immediately purchase your website without participating in the bidding process. The BIN price should be set realistically and in line with market trends.
Navigating the Sale Process on Flippa
When you get bids for your website, you have the right to accept or reject them. Once the auction ends or when you finalize a deal with a buyer, Flippa will guide you through the payment and transfer process.
Post-Sale Process
Once the sale is complete, you may need to provide post-sale support to the buyer, especially if you've sold a website or an app. This could include transferring the domain, giving access to the website's backend, or providing training on how to manage the website.
Understanding Flippa's Fees
Flippa charges a listing fee and a success fee for selling digital assets. The listing fee varies depending on the type of asset you're selling, while the success fee depends on the sale price of the asset.
For instance, if you're selling an established website that generates revenue, the listing fee would be $49. If the website sells for up to $50,000, the success fee would be 10% of the sale price.
| Listing Fees | Fee Amount |
| --- | --- |
| Starter Listing Fee (Basic) | $0 |
| Standard Listing Fee (With Enhancements) | Starts at $49 |
| Domain Listing Fee | Starts at $10 |
| Success Fees (Final Value Fee) | 10% of the final sale price |
| Success Fees (For Buy It Now listings) | 15% of the final sale price |
| Reserve Price Fee | $5 (optional) |
| Featured Listing Fee | Starts at $195 |
| NDA Template Fee | $5 per download |
| Website Valuation Tool (optional) | $20 – $100 (depending on package) |
| Website Due Diligence Report (optional) | $295 |
| Flippa Escrow Fees (For transactions) | 0.89% – 3.25% (based on transaction amount) |
Please check out Flippa's Fees here.
The Pros and Cons of Selling on Flippa
Like any platform, Flippa has its advantages and disadvantages.
Pros:
Ease of Use: Flippa is user-friendly, making it easy for sellers to list their websites for sale.
Large User Base: With over 3 million registered users, Flippa gives your listing a wide reach.
Safe and Secure: Flippa provides a secure platform for transactions, ensuring the safety of both buyers and sellers.
Cons:
High Fees: The listing and success fees can eat into your profits, especially if you're selling a lower-priced website.
Risk of Scams: While Flippa does its best to prevent scams, sellers should still exercise caution and do their due diligence.
| Pros of Selling on Flippa | Cons of Selling on Flippa |
| --- | --- |
| Large User Base: Flippa has a vast user base, which means your listing can potentially reach a broad audience of buyers. | Competition: Due to its popularity, your listing might face stiff competition from other sellers, potentially affecting the final selling price. |
| Easy Listing Process: Flippa offers a straightforward listing process, making it relatively simple to put your online business or digital asset up for sale. | Fee Structure: Flippa charges various fees for listing upgrades and successful sales, which can impact your overall profits. |
| Auction and Buy Now Options: You can choose between auction-style listings or fixed-price "Buy Now" options, giving you flexibility in your selling approach. | Bargain Hunters: Some buyers on Flippa may be looking for bargains, leading to potential negotiations and lower selling prices. |
| Transparency: Flippa provides access to detailed analytics and data, allowing you to showcase the performance of your business to potential buyers. | Limited Support: Flippa offers customer support, but the level of assistance may not be as personalized compared to other premium brokerage services. |
| Community Interaction: Flippa's platform encourages engagement and communication between sellers and buyers, fostering a sense of community. | Scams and Frauds: As with any online marketplace, Flippa can attract scammers, so it's crucial to remain vigilant and cautious during transactions. |
| Quick Sales: Depending on the demand for your listing, you may be able to sell your business or asset relatively quickly on Flippa. | Market Perception: Flippa is known for hosting a wide range of listings, including some lower-quality offerings, which might affect the overall perception of the marketplace. |
Popular Flippa Alternatives
If you want to sell your website or digital business out of Flippa you should check out the following options or read our guide about the best internet business brokers.
1. Empire Flippers Empire Flippers is a well-known marketplace for buying and selling online businesses. They focus on higher-value businesses and vet both sellers and buyers more thoroughly. Visit Empire Flippers
2. FE International FE International specializes in brokering the sale of established and profitable online businesses, making it a reliable option for sellers looking for a more personalized approach. Visit FE International
3. Website Closers Website Closers focuses on selling e-commerce websites, SaaS businesses, and other internet-based companies. Visit Website Closers
4. BizBuySell While BizBuySell is primarily known for buying and selling traditional businesses, they also have an online business section where you can list digital assets and web-based businesses. Visit BizBuySell
5. BuySellEmpire BuySellEmpire is a marketplace for buying and selling online businesses, including content websites, e-commerce stores, and other digital assets. Visit BuySellEmpire
6. Flipping Enterprises Flipping Enterprises is designed specifically for buying and selling online businesses, with a focus on e-commerce stores and digital assets. Visit Flipping Enterprises
7. Latona's Latona's is an auction-based marketplace for selling online businesses and domain names. Visit Latona's
8. MotionInvest MotionInvest specializes in acquiring and selling content-based websites, especially those earning revenue through affiliate marketing. Visit MotionInvest
9. Quiet Light Brokerage Quiet Light Brokerage handles the sale of established and profitable online businesses, providing personalized support throughout the process. Visit Quiet Light Brokerage
Final Thoughts on Selling on Flippa
Selling a website on Flippa can be a rewarding experience if done right. By understanding how to sell on Flippa, setting the right price, and providing accurate and detailed information about your website, you can attract serious buyers and make a successful sale.
Frequently Asked Questions about Flippa
1. How do I create a listing on Flippa for my online business or digital asset? You can create a listing on Flippa by signing up for an account and following the step-by-step listing process on their website. Create a Listing on Flippa
2. What information should I include in my listing to attract potential buyers? Include detailed financials, traffic data, growth potential, business history, and any unique selling points to attract potential buyers.
3. Are there any listing fees or upfront costs to sell on Flippa? Yes, Flippa charges various listing fees and optional upgrade costs. You can find their fee structure on their website. Flippa Fees
4. How do I determine the right price for my online business or asset? Consider factors like revenue, profit, traffic, growth trends, and industry standards to determine the right price.
5. Can I set a reserve price for my auction-style listing? Yes, you can set a reserve price to ensure your business doesn't sell below a certain minimum amount.
6. What are the different types of listing options on Flippa, such as auction-style vs. fixed-price "Buy Now"? Flippa offers auction-style listings with a reserve price and fixed-price "Buy Now" listings for immediate purchase.
7. How do I handle negotiations with potential buyers? Communicate promptly, be transparent, and negotiate through Flippa's messaging system.
8. Are there any specific legal or contractual considerations when selling on Flippa? Yes, it's crucial to have a clear sales agreement in place. Flippa provides a template for your use. Sample Agreement
9. What kind of verification or proof of revenue/traffic do I need to provide to potential buyers? Buyers often request access to Google Analytics or financial statements to verify revenue and traffic claims.
10. How does the escrow process work on Flippa, and is it mandatory for all transactions? Flippa offers an integrated escrow service to secure transactions. It is mandatory for higher-value transactions. Flippa Escrow
11. What are the best practices to maximize the visibility of my listing on Flippa? Use clear and descriptive titles, high-quality images, and provide comprehensive details about your business.
12. Can I promote my listing outside of Flippa to attract more buyers? Yes, you can promote your listing through social media and other marketing channels.
13. How long does the typical selling process take on Flippa? The selling process can vary widely depending on your listing and the demand for your business. It can take anywhere from a few days to several weeks.
14. Are there any restrictions or guidelines on the type of businesses or assets I can sell on Flippa? Yes, Flippa has a list of prohibited items and guidelines for listing. Ensure your business complies with these rules. Flippa Guidelines
15. How can I avoid scams and fraudulent buyers while selling on Flippa? Stay cautious, verify buyer credentials, and conduct transactions through Flippa's secure payment and messaging system.
16. What happens if my listing doesn't receive any bids or offers? You can consider relisting with improved details or exploring other marketing strategies to attract potential buyers.
17. Can I relist my item if it doesn't sell during the initial listing period? Yes, you can relist your item if it doesn't sell during the initial listing period.
18. Does Flippa provide any assistance or support for sellers throughout the selling process? Flippa offers customer support, but the level of assistance may vary based on your listing and chosen package.
19. How do I handle the transfer of ownership and assets to the buyer after the sale is completed? Follow Flippa's guidelines and use their secure escrow service for a smooth and secure transfer process.
20. Are there any success stories or case studies of previous sellers on Flippa that I can learn from? Yes, Flippa features success stories of sellers who have achieved successful transactions on their platform. Flippa Success Stories
21. Is selling on Flippa free? No, Flippa charges a listing fee and a success fee for selling a website, domain, or app.
22. Is selling on Flippa legit? Yes, Flippa is a legitimate platform for selling digital assets. However, sellers should do their due diligence to avoid scams.
23. Is it easy to sell on Flippa? Yes, Flippa's user-friendly interface makes it easy to list a website for sale. However, attracting serious buyers and making a successful sale requires understanding the platform and implementing the right strategies.
24. How does selling on Flippa work? Selling on Flippa involves creating a listing for your website, setting the right price, providing detailed information about your website, and navigating the sale process.
25. How does Flippa pay? Flippa does not directly pay the sellers. Instead, it facilitates the payment process between the buyer and the seller. Payments can be made through various methods, including PayPal and Escrow.
You can learn more about selling on Flippa on this great resources: